Excuse Me? 'The Crown' Star Emma Corrin Has A ~Dirty~ Little Secret — Find Out!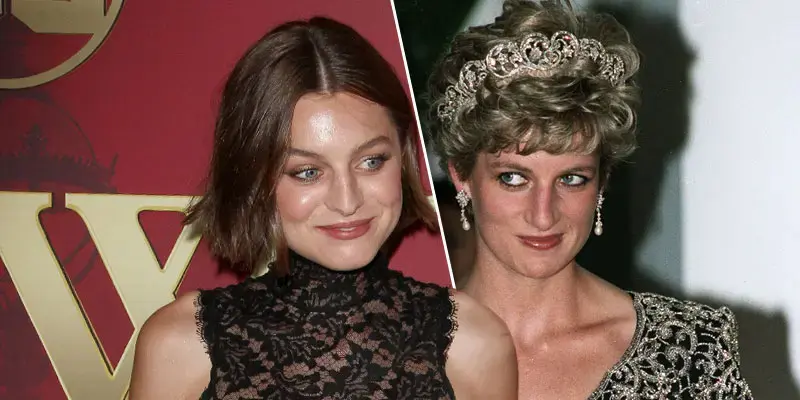 The Crown star Emma Corrin and Princess Diana are more alike than we think! The actress revealed that she keeps a vibrator in her handbag — just like the late Princess of Wales.
During a video interview with Vogue — which was published in September 2020 — the 25-year-old, who plays Prince Harry and Prince William's late mother in the hit Netflix series, shared that the sex toy is great to help "unwind" if and when "you're stressed." While discussing the gadgets in her bag, the U.K. native noted the vibrator "kind of looks like a lipstick," so it's "nice and subtle."
Article continues below advertisement
NEW 'THE CROWN' SEASON 4 TRAILER REVEALS THE FIRST GLIMPSE OF EMMA CORRIN AS PRINCESS DIANA AND MORE
The Misbehaviour starlet is not the only one with the idea to keep her toy close. The late beauty had a "secret mascot" in the form of a sex toy, which she took on all of her trips overseas, her former bodyguard revealed in 2016. Royal protection officer Ken Wharfe said the scandalous plaything, which the royal princess referred to as "Le Gaget" or "the gadget," was purchased in Paris in 1992 after a "wild staff night out." Wharfe claimed he persuaded Diana's sister Sarah McCorquodale to hide "Le Gaget" in the princess' bag the next morning.
DUCHESS DRAMA! 5 TIMES MEGHAN MARKLE WAS SNUBBED BY THE ROYAL FAMILY
Wharfe's bombshell claims were made in an updated edition of his best-selling book, Diana: Closely Guarded Secret, in 2016. The former bodyguard added that the young princess "loved pranks and practical jokes" and thought the toy was "hilarious" before quickly making it her "secret mascot for foreign trips."
Wharfe recalled one time when Diana forgot to bring "the gaget" on her trip to Nepal after leaving it at Kensington Palace. The blonde beauty insisted it was her lucky charm, so she allegedly had it flown in a diplomatic bag from London to Asia. When the object was finally delivered to Diana during a press conference — on a silver tray by Wharfe — she reportedly laughed and said, "Oh, that must be for me."