Prince Harry Shows Off Necklace Prince William Allegedly Broke During Heated Argument — Watch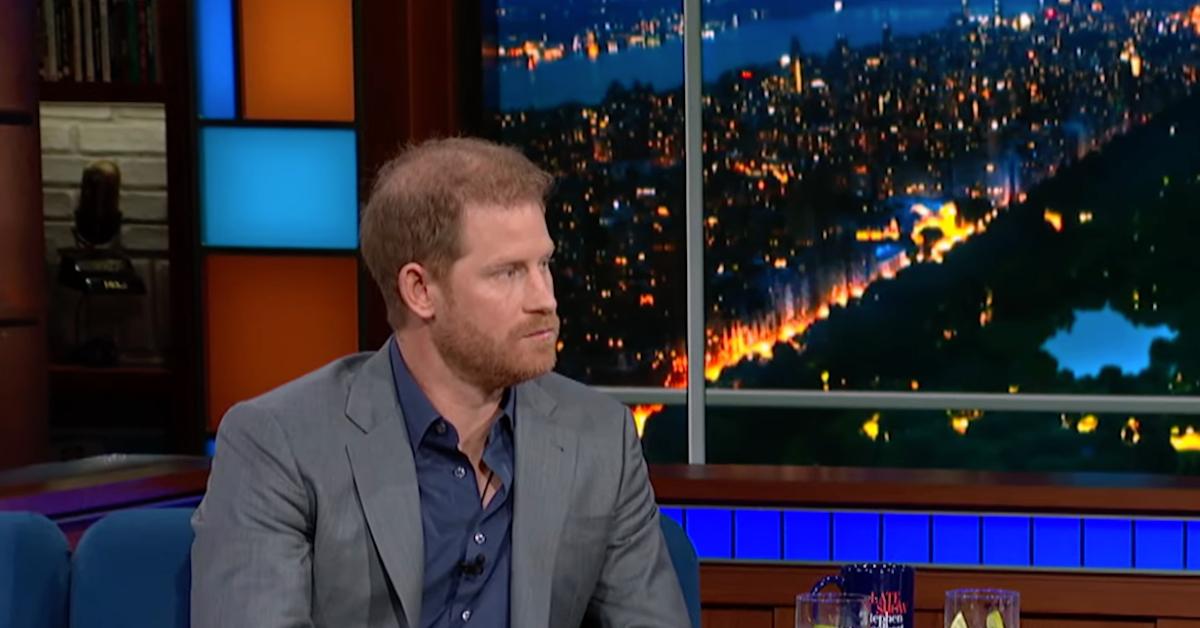 Prince Harry is giving more details about his alleged fight with brother Prince William.
While chatting with Stephen Colbert on Tuesday, January 10, the royal, 38, was asked, "There is a lot of talk about the physical fight that the two of you had, where he pushed you down in the kitchen and broke the dog bowl when you fell on it. It says he broke your necklace. Which necklace was this that he broke?"
Article continues below advertisement
"This one, which is now fixed," Harry replied, as he showed him some charms that were on a black cord necklace.
"I've got my kid's heartbeats, which my wife gave me," he shared of the pendants, which have Archie and Lilibet's cardiograms engraved on them.
"And I friend of mine in Botswana made this for me, which has got tiger's eye on it," he continued of the third charm.
Article continues below advertisement
As OK! previously reported, Harry spoke about his relationship with William, 40, in his new book, Spare, which was released on January 10.
In the tome, he claimed the two got into a heated altercation over Meghan Markle.
"It all happened so fast. So very fast. He grabbed me by the collar, ripping my necklace, and he knocked me to the floor," the book reads. "I landed on the dog's bowl, which cracked under my back, the pieces cutting into me. I lay there for a moment, dazed, then got to my feet and told him to get out."
Article continues below advertisement
As a result, Prince William was called out for his alleged behavior.
One person wrote, "Prince William is a bully, he's going to get that spot light he wanted," while another added, "See! Prince William has always been a bully. Let no one ever forget! #PrinceWilliamIsABully."
A third person added, "Prince William is a violent bully! #Princewilliamisabully."
A fourth person weighed in, writing, "Now we know. The Prince of Wales is an abusive bully. #SparebyPrinceHarry #HarryandMeghan #PrinceWilliam."
Though Harry is hopeful he can reconcile with William one day, others don't agree that's an option.
"It seems to me like he's acknowledging [that] there's no way back from this. He said he wants his brother back, he wants his father back. … I think that seems a bit rich, to be honest," royal expert Jonathan Sacerdoti said. "Because Meghan and Harry have done everything they could to alienate themselves from their family. I think they've really fought quite hard to attack the family."