Kate Middleton's Charming Childhood: Sports, Sleepovers & A House That 'Was Always Filled With Laughter'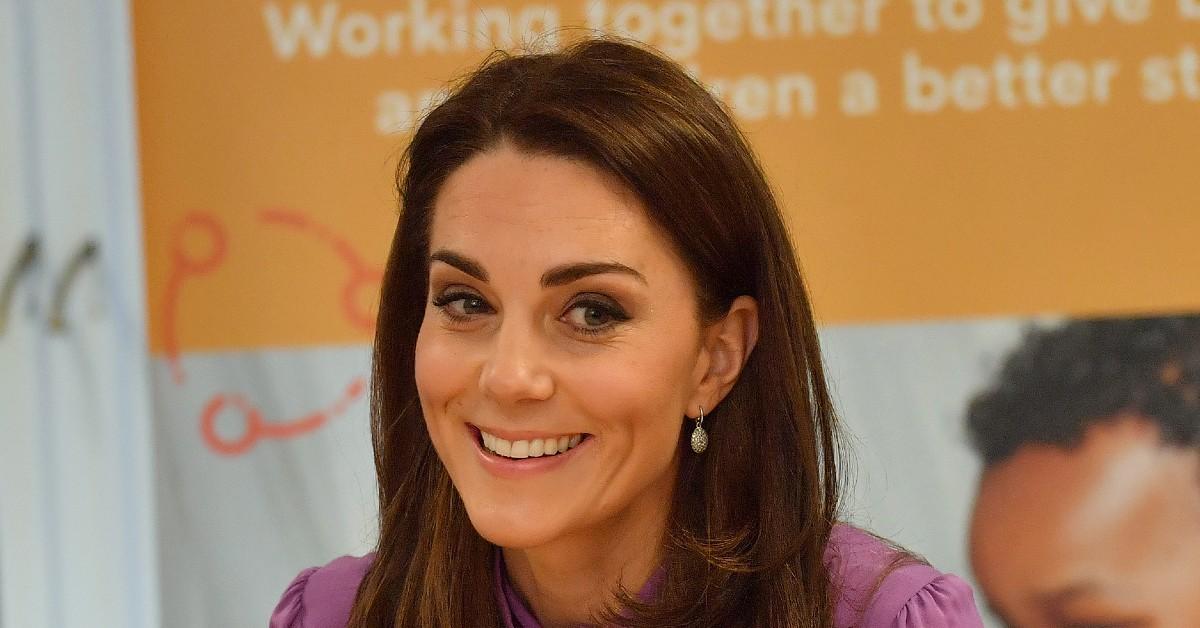 Once upon a time – January 9, 1982, to be precise – England's future queen came into the world. Carole Middleton, a British Airways flight attendant, and her husband, Michael, an airline dispatcher, welcomed daughter Catherine Elizabeth on a particularly cold and snowy day in England. And though the girl may not have been born a blue blood, she enjoyed a charmed childhood nonetheless.
Article continues below advertisement
"When I was growing up, I was very lucky," Kate recently recalled. "My family was the most important thing to me. They provided me with somewhere safe to grow and learn, and I know I was fortunate not to have been confronted by serious adversity at a young age."
Indeed, her biggest problem may have been the size of her bedroom. Kate and her siblings – sister Philippa, a.k.a. Pippa, was born in 1983, and brother James came four years after that – lived with their parents in a modest brick home on a tree-lined street in Bradfield, a tiny town nearly 50 miles outside of London. She had less-than-royal accommodations on the top floor. "[It] was a tiny sliver of a room under the eaves," according to Marcia Moody, author of Kate: A Biography, "with a steeply sloping ceiling and slanted window."
Article continues below advertisement
Kate, however, wasn't one to complain. Living in the sleepy countryside taught the smart, studious girl how to make the best of what she had. "With very little else to do," writes Moody, "it was all about making your own entertainment, which was perfect for the Middletons as they focused on arts and crafts and outdoor sports."
In 1984, the family moved to Jordan for two years when Michael took a position with British Airways in the Middle East. Kate, according to Moody, "attended the Al Saheera nursery, where she learned nursery rhymes in Arabic."
Article continues below advertisement
After their return to England, Kate attended St. Andrew's pre-prep, a private primary school. Though Kate also played the flute, acted in school plays and joined her local Brownie troop, she earned a reputation as a tomboy. "Kate was happiest on the playing field," says biographer Katie Nicholl. "She loved hockey and went on to become one of the best players." The same went for swimming. Kate was "fearsome," Nicholl wrote in Kate: The Future Queen, "and her fast front crawl and backstroke enabled her to beat many of the school's records."
The natural athlete packed plenty of fun into her off-hours, too. Kate and Pippa hosted sleepovers with friends and would stay up late watching Kate's favorite movie: Cocktail, starring Tom Cruise. "The house," recalls Kate's childhood pal Fiona Beacroft, "was always filled with laughter."
Article continues below advertisement
By the time Kate was a teen, the Middletons had become wealthy. Party Pieces, the party supply company that Carole started in her spare time, took off, and the family could afford more luxuries, such as a bigger Tudor-style house in the sleepy but well-appointed village of Bucklebury. (The five-bedroom home, set on 1.5 acres of land, was called Oak Acre.)
Another expense: Kate's $30,000-a-year high school, Downe House. Unhappy there – some students bullied her – "Kate retreated into her shell," says Nicholl.
She decided to transfer to Marlborough College mid-year. Kate blossomed at her new school, where she boarded because it was an hour away from home. She excelled in academics, became co-captain of the tennis team and developed a notable celebrity crush: Her roommate, Jessica Hay, has claimed Kate was smitten with Prince William. "She had a picture of him on her wall," Hay said. "She would joke, 'There's no one quite like William.'" She would soon learn the young prince's charms firsthand.